Booklets
Have you created a catalog of products that need to be printed professionally?
We can print booklets in custom sizes, different paper stocks, weights, page counts and a host of bindery options.
We Specialize In Printing & Binding These Types Of Booklets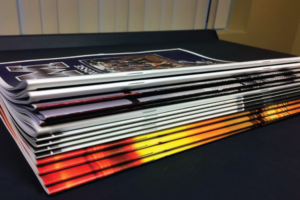 Saddle Stitch
Saddle stitching is probably the most popular type of book we print. We can produce either self cover (all the same paper stock throughout) or mixed media (Cover and insides are different). We have the capability to print and bind up to 20 spreads.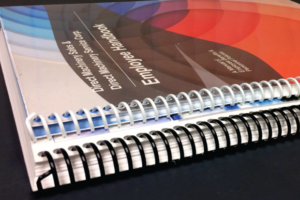 Plastic-Coil
Plastic-coil binding is made up of a tough plastic that spirals through the entire book. Black and white are the most popular colors, but you can also get custom colors. It is recommended, but not necessary that you use a heavier front and back cover.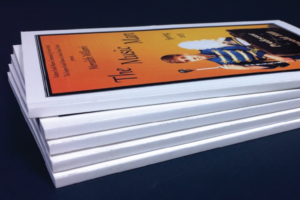 Perfect Bound
Perfect Bound booklets are glued at the edge and require a heavier cover. The gluing process will guarantee a strong hold for your books. These are great for notebooks, yearbooks and playbills.
Wire-O
Wire-O binding is made up of a tough double ring metal that spirals through the entire book. This binding option is only available in black. It is not necessary, but recommended that there be a heavier front and back cover applied.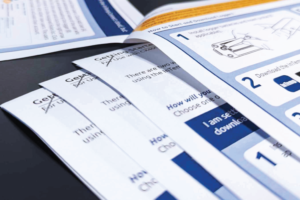 Corner Staple
Corner Stapled packets are a simple and cost-effective option when it comes to presenting your information in a professional manner. One staple in the top left corner is all it takes. Our max we can staple is up to around 50 sheets.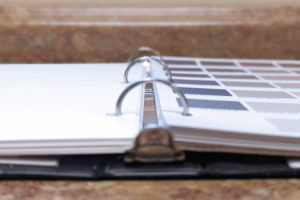 Loose Sheets
Do you have your own form of binding you would like for your booklets? We can print full booklets that are not bounded for you to insert into your 3-Ring binder or plastic sleeves. We can drill the 3 holes for your binders as well.

Contact us at 631-256-5315, [email protected] or fill out our contact form to get your project started today!
Need Your Booklets Custom Designed?